Selling to the government, made simple.
Receive requests. Send quotes. Win government business.
Quick sales.
State, local, and education agencies request quotes when they are ready to buy and GovQuote immediately notifies qualified vendors, breaking down the barriers to entry for small to medium businesses. Initial requests for quotes can develop into long term business relationships.
Avoid time consuming RFPs.
Almost 80% of what the government spends does not go out for bid via RFP because their purchases are under the spending threshold limits – typically less than $20k. It's now possible for businesses of all sizes to compete in the massive $1.5 trillion government market.
Participation is free.
Active government buyers come to you, reducing prospecting time, market research and other typical customer acquisition costs. GovQuote helps small and minority-owned companies compete with larger organizations, because it's simple and quick to respond and there are no fees for winning quotes.
Say goodbye to transaction fees. Say hello to new opportunities.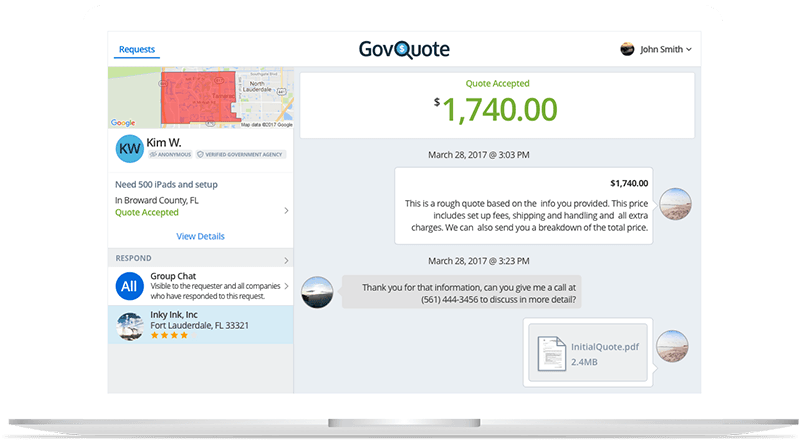 GovQuote was founded by B2G leaders and public procurement experts with decades of experience in government contracting. Starting with the idea that the RFQ (request for quote) process could be streamlined using a smart, technology-driven system, GovQuote cuts out costly, unneeded features, keeping only what really matters — an easy way to sell to the government market.
Thousands of businesses are growing with GovQuote.
"GovQuote allows for highly targeted lead generation…it's a great tool for our resellers. Every person I share it with is amazed at how many opportunities pop up right on their screen."
Peggy Lane
Manager of Government Services
Bluestar, Inc
Ethan Mcleod
Sr. Account Executive
StrictlyTech
"Great format and great system! I would highly recommend using GovQuote for procurement needs. Very simple to use and very helpful for competitive prices on products."
"Working with GovQuote has been a great experience. They are top notch professionals that work relentlessly to make their customers lives easier."
Brianna Carney
Founder
Crewbloom
Start selling on the #1 government marketplace — no registration fee required.