Request quotes in 60 seconds or less.
Create a Request for Quote with just a few clicks and reach the largest audience of companies actively competing government business.
Get the best price.
Reach the largest audience of companies actively competing for the business of local, state and federal government agencies.
Audit-proof recordkeeping.
Detailed records of each transaction are automatically generated to satisfy auditors and/or public records requests — viewable and downloadable at any time.
Say goodbye to transaction fees. Say hello to new opportunities.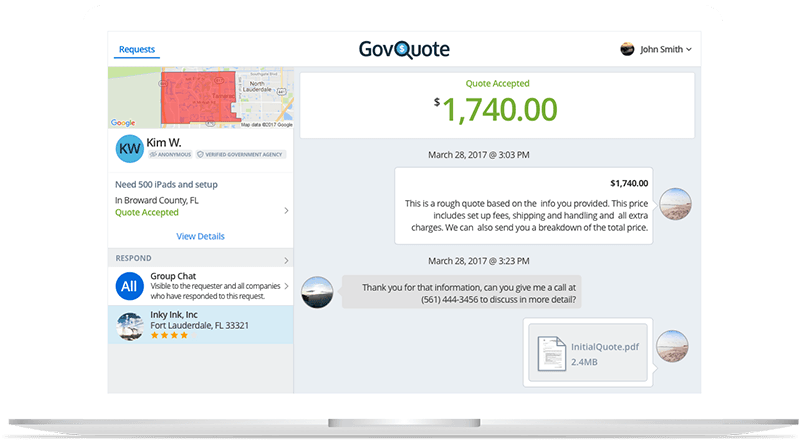 GovQuote was founded by B2G leaders and public procurement experts with decades of experience in government contracting. Starting with the idea that the RFQ (request for quote) process could be streamlined using a smart, technology-driven system, GovQuote cuts out costly, unneeded features, keeping only what really matters — an easy way to sell to the government market.
Thousands of agencies are saving time and money with GovQuote.
"GovQuote is so convenient because I can request quotes, talk to companies and have the audit record all in one place. I just have to request a quote once and wait for the great prices to roll in!"
Liz Brager
Purchasing Agent
Kennewick School District
William Planas
Buyer
Miami-Dade College
"There's practically no wait time when it comes to receiving responses from vendors and getting quotes on the platform. Turnaround times have decreased, lines of communication have been strengthened, and wait time has significantly decreased."
"My first experience with GovQuote was positive. What a welcome relief to know that someone's got public procurement's back. The platform looks terrific, and has great potential to increase the effectiveness of all public procurement staff. Check it out!"
Jules DeGiulio
Purchasing Administrator
Umpqua Community College
Start selling on the #1 government marketplace — no registration fee required.